Today, I speak with international speaker and bestselling author of 9 Traits of a Life-Giving Mom, Sue Detweiler. This is the 49th episode of On Faith's Edge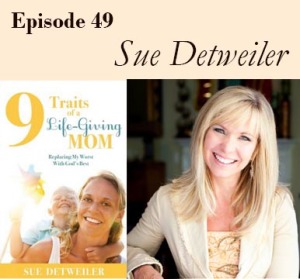 Sue Detweiler is a wife, mother of six, author, and pastor with more than twenty-five years of experience in marriage, ministry, and education. She is also a popular speaker who shares her heart and wisdom internationally on issues related to marriage, family, women, prayer, leadership, and ministry.
Sue's first book, 9 Traits of a Life-Giving Mom, hit No. 1 on Amazon's hot new releases for Christian women's issues. Her newest book, 9 Traits of a Life-Giving Marriage, grew out of her and her husband's heart to help couples grow closer to God and to each other. In their pastoral ministry to marriages, they have seen how sharing their own struggles can help create a safe context for couples to be transparent and honest with their own issues. Wayne and Sue have also seen God's transformative power heal and restore marriages through the marriage conferences and workshops they have led.
---
Follow Sue:
Website: suedetweiler.com
Facebook: facebook.com/SueDetweiler7
Twitter: @SueDetweiler
---
---