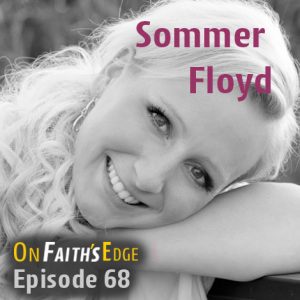 If you look up "All American Girl" in the dictionary, chances are the definition will be accompanied by a picture of Sommer Floyd. Growing up in the Texas Hill Country, Sommer was an honor roll student, gifted athlete, beauty queen, and genuinely nice person. Voted "Class Favorite" and "Most Talented" by her high school classmates, she was the quintessential cheerleader, earning four individual high school All-American designations, and three All-Star Team National Championships. Attending college on a cheerleading scholarship, Sommer was designated a college All-American as a freshman, an almost unheard of accomplishment. She ran on the varsity track team, played tennis, showed livestock, participated in rodeos, earned her Deep Sea Diving certification…
Oh, and she sings and writes songs too.
While Sommer certainly has all the credentials as an All-American, she is also 100 percent human. She is the first to admit, she has made her share of mistakes.
"As a teenage girl, I made some poor choices that changed my life's direction dramatically," she confesses. One of those choices resulted in Sommer becoming a single mother at a young age. Broken-hearted and at the lowest point in her life, Sommer returned home to her loving, supportive family. She began to dig deep into God's word, and discovered a fountain of acceptance and blessings
The transformation from everyone's All-American to God's empty vessel didn't come quickly or easily for Sommer Floyd. But being forged in the refining fire of adversity can have a profound effect on a willing spirit. And the songs that emerge sound somehow sweeter, ring truer, and hold the capacity to scatter the darkness like a ray of light on a cloudy day.
Look for Sommer's Debut Project "Ray of Light" Coming Soon
Follow Sommer:
Website: sommerfloyd.com
Facebook: www.facebook.com/sommerfloydmusic
Twitter: twitter.com/sommerrfloyd
Instagram: www.instagram.com/sommerfloydmusic